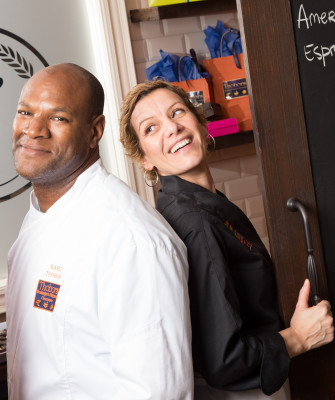 Marc Thobor
Marc began baking when he was 16 simply because he loved bread and everything about it. After graduating from an accredited three-year artisanal bread-baking training and apprenticeship institute, Marc honed his craft at several traditional Parisian boulangeries.
He believes that good bread happens only when fresh, natural ingredients of the highest quality are blended with an understanding of bread chemistry—and craft. But Marc says that the magic of the bread doesn't happen until a skilled pair of hands readies it for the oven at precisely the right moment.
Sylvie Thobor
Sylvie Thobor is Thobors' chocolatier and pastry maker. Sylvie has always been passionate about her craft, but in the last few years has dedicated herself to enhancing her European training in artisanal chocolate making.
Sylvie originally trained at the internationally renowned Cacao-Barry Chocolate Academy in Paris and also earned her diploma as a pastry chef in the French capital. Since then she has won a Concours de la Meilleure Patisserie, Chef d'entreprise 2010 award at the prestigious Paris pastry competition.